As I post this, my poll on Hottest Babe ends today, and I thought it would be fun to break it down and rank them in individual categories. I'm leaving Demi Lovato out because, as I expected, she's getting killed by the other three, who are basically neck and neck.
When a honey muffin like Demi gets trounced, you know the competition is strong as hell. I plan to give points for each spot (1 for first, 2 for second, etc...). In the end, the lowest point total should be the winner of the hottest babe competition.
Prettiest Face
1. Selena 2. Hayden 3. Miley
All of these ladies are gorgeous, but Selena takes the top spot because of those sensuous lips and overall beauty. Hayden's not far behind. Check her out in the film
Bring It On: All Or Nothing (2006)
. She is awesome looking. Stunning. Miley used to have an issue with overexposed gums at times. She's grown out of that, but not quite enough to overtake the others.
Best Breasts
1. Miley 2. Hayden 3. Selena
None of these ladies is close to sporting Lindsey Lohan(Pre-skank)/Scarlett Johansson rackage, but in a battle of the B-cups (Miley might be a C-cup by now, but it's close), I believe Miley wins a tight one. Hayden definitely has some perky, fine little hooters. At some point in the future, Selena may well have the best set of all, but here and now, I don't think she's quite as filled out as she will be eventually.
Best Butt
1. Hayden 2. Miley 3. Selena
All of these ladies have outstandingly fine cabooses, but Hayden wins this one hands... errr... ass down. She simply has a perfect, tight tushie. Again, check her out in her Bring It On flick in those tiny little shorts. Arrrooouuuu! Woof! Woof!
Best Legs
1. Miley 2. Selena 3. Hayden
Miley has long been underrated in the gams department. The girl has some damn fine sticks, that cannot be denied. Selena takes second by a hair over Hayden, even though she's still hurt in this category by that "skinny" issue. Hayden loses a couple of needed points here because of her short stature.
Best Overall Body
1. Miley 2. Hayden 3. Selena
Both Miley and Hayden lose points because of gawddamn MF'ing tats, but they're relatively obscure at this point. Not long ago, Hayden would have won this one hands down, but it ain't 2006 anymore and that picture of Miley with the curves and abs pushed her over the top by a smidgen. Once again, Selena can't quite crack the top two just yet. Give it another year or three and she might dominate this competition.
Point totals:
Selena - 12 points
Hayden - 10 points
Miley - 8 points
And the winner is... Miley Cyrus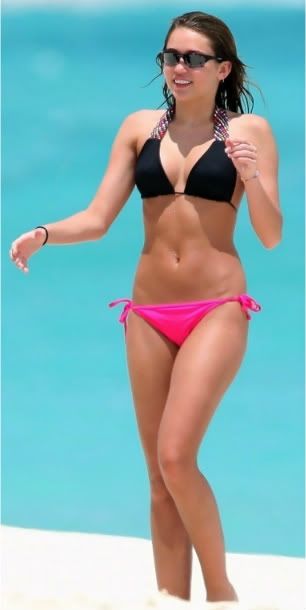 Wow. That's a surprise. As God is my witness, when I did this I had absolutely no idea who would win until I added up the points. I simply worked up the categories and started voting with my best thoughts on who ranked where in each individual test.
I'd like to hear everyone's honest thoughts and opinions.
I like this so much I'm going pull a first and post this in my personal forum area over at DVF as well.