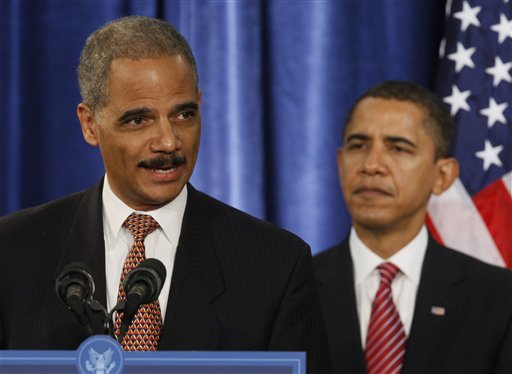 First, I want to be completely, 100% crystal about this: I have absolutely no issues, problems, or moral dilemmas whatsoever about U.S. Forces waxing Bin Laden, whether he was armed, unarmed, on his knees begging for mercy, or making whoopee with one of his child brides.
That, however, according to Obama and his ACLU-lovin' sidekick Eric Holder, was not the proper way America was supposed to deal with terrorists.
Let's try Terrorists in civilian court…Eric Holder's idiocy Redux
Eric Holder: Terrorists and Osama Bin Laden Have Same Rights As Charles
Oops.
Nope, we were supposed to capture them alive, if at all possible, read them their rights like any other "normal" criminal, and give them their day in an American civilian court of law.
So, what happened? More to the point, where is the outrage and snide remarks from the left wing (An oxymoron, They're virtually all liberals) media?
Taking the second point first, unless Obama does something
really
crazy, like heaven forbid, stop an abortion, the media won't say a single bad thing about him, so forget that. It ain't happening. In their eyes, this guy is the closest thing they'll ever see to a living, breathing (Non-Christian, of course) Jesus.
Seems clear now that Bin laden wasn't armed, so the idea he couldn't be taken alive is lame. Even if he was, I think a team of SEALs could still take this crud alive if required.
But Obama didn't want that. With gas prices sky-rocketing, with unemployment holding at almost 9%, with his stimulus package nonsense hijinks imploding, he needed a win. And not a liberal kind of win, a middle class America, kind of win.
It's been done before you know. In an act so blatantly obvious everyone but a democrat saw right through it, Slick Willie (Clinton) bombed Iraq
at the exact same time he was getting impeached
.
I am not so naive as to believe that no Republican president has ever used the power of his office to deflect bad press away from him, but only liberals tend to use our military for such actions.
Go ahead and smoke Bin Laden boys. We'll read the next terrorist guy his rights.
Oh, those wacky libs and their vacillating morals.
It would make me laugh if wasn't so sad, but in reality, the laugh is all on us.