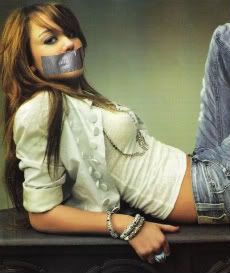 Fake! (The gag) The boobies are real.
On a purely technical basis, Miley Cyrus already has a couple of minor (Heavy emphasis on the word "minor") scenes. One a hinky dink online clip where she half-ass tapes her own mouth for a brief time, and the other where she's tied and gagged (Supposedly. You can't even tell it's Miley as her face is covered almost entirely) with a feather boa.
In my opinion, both of these instances royally suck stinky cheese, and should not in any way count as DiD scenes.
Christmas Present? This will do fine, thanks.
There is reason for hope, however, as she has a film coming out soon called
"SO UNDERCOVER"
.
The plot is this:
"A tough, street-smart private eye is hired by the FBI to go undercover in a college sorority."
Well that seems like a perfectly logical plot to me.
I'm sure the world is filled with teenage hotties who happen to be street-wise private investigators.
No?
Look, it's a chance to see a
very
nicely filled-out-in-all-the-right-places Miley Cyrus potentially bound and gagged, so just go with it, okay? Now admittedly, this plot isn't quite on the level of say,
"Miley is kidnapped and held hostage by a sexually deviant bondage fetishist."
but it's not bad, and it certainly has more potential than the plot for Selena's
Monte Carlo
.
Here are a few more shots of Miley, just in case the one above didn't wet your appetite enough.
This Girl Has Some Fine Legs...
And The Rest Ain't Bad Either!